The Story Behind... Freedom Isn't Free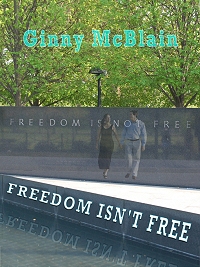 ABOUT THE BOOK
Freedom Isn't Free is the most personal story I've written to date. I was an airline stewardess in 1967-68. I met my husband, a soldier, on a flight. I am the oldest of eight siblings. I have had acromegaly. The setting is in towns I've called home. But that's where the similarities end. Freedom Isn't Free is not autobiographical.
I grew up in the shadow of the nation's capital, in Falls Church, Virginia. Most of my neighbors were in the military. Both my parents were veterans. My husband served in Vietnam and my son in Kuwait during Operation Iraqi Freedom. I now live in a military community. The theme of freedom came naturally to me. I understand the price we, as a nation, as families, and as individuals pay for the freedoms we enjoy.
Sightseeing in Washington was a favorite past time, something I wanted to share with my readers. Watching the changing of the guard at the Tomb of the Unknowns is always special. My grandfather was in charge of the burial detail for the first unknown. The porch of the Custis-Lee Mansion is my favorite spot on earth. The view of the Nation's Capital is breathtaking.
I included acromegaly in the story because it is a rare hormone disorder unknown to most people. I promised the nurse in ICU after my surgery that I would put it in a book one day.
I hope you'll enjoy the story.
A flight attendant, A soldier on his way to war...
Megan Bradshaw lives up to her nickname, Miss Prudie. Until, that is, she spills ice water into the lap of the sexy soldier in seat 4B. Shamelessly she offers him a ride to wherever he's going, never mind that her life is overly complicated already.
Captain Duncan Fraser wants to stay in the Army, but isn't sure he'll be able to balance the family he longs for and his obligation to his country. Still, Megan is a lovely, interesting woman and he can't resist responding.
And that's when their responsibilities get in the way of their budding romance. Her rebellious twin sisters, his looming deployment, her mother's illness, his need to keep his destination secret, all threaten any chance of happy-ever-after.
When disaster strikes, will they realize that being together when they can is more important than being apart forever? Or is the cost of Freedom too high?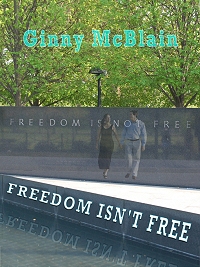 "Ms. McBlain used various scenarios to bring this couple to a surprising ending in this fast paced book. Her supporting cast portrayed believable people who could actually be in anyone's family. The military connection was something many of us face on a daily basis. I wholeheartedly recommend that anyone read this book. It has much to offer to a wide spectrum of readers. 5 Stars!"~~The Romance Studio
Published by Uncial Press.
Order now from:
AMAZON, Barnes & Noble, KOBO
or your favorite independent ebookseller.
---