The Story Behind... Honor Bound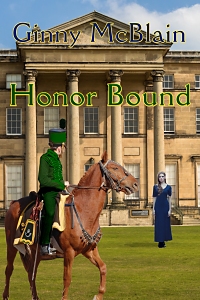 I love Regencies and I'm interested in the Peninsular War. With each book I try to expand my wings with something new. So why not attempt a Regency romance? For me it was a bit daunting. I've written contemporary for years, although I read more historical. Could I make the switch? The only way to find out was try.
When I finally had the bare bones of the story clear in my mind, I started the research. That was a never-ending project, through the editing process. I continue to research the Regency and the Peninsular War , an on-going joy and necessity for my next project.
In 2013 my husband and I took a top-of-my-bucket-list trip to Great Britain. Although HONOR BOUND was three-quarters finished, I was able to incorporate many aspects of what we saw into the book. Instead of taking a tour, we drove ourselves, which enabled me to get a feel for the land and the breathtaking sites. Every place we visited I kept the book in mind. A visit to the Royal Green Jackets Museum in Winchester gave me the original regulations for the Experimental Rifle Corps, which evolved into the 95th Regiment of Foot (Rifles). I already knew the essence of the concept of 95th. I realized those regulations had formed much of Miles character.
I also wanted to incorporate an element of intrigue in this story, something I had never tried before.
Did I succeed in my goals? You be the judge.
Why can't the Duke of Lyndhurst remember..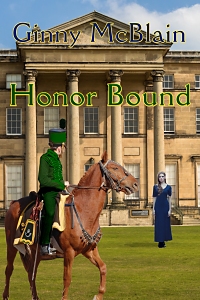 The new Duke of Lyndhurst, Lieutenant Colonel Miles Barclay, arrives home from the Peninsular War severely wounded, with no memory of how he was injured. He finds Seabring understaffed and the rector's daughter in charge of his baby brother, Lord Peter, a child he wants nothing to do with.
Claire Trent has loved Miles since she tagged after him and her big brother in childhood. She has faced widowhood and holding Seabring together against next to impossible circumstances. But can she manage the greatest challenge of them all and save Miles' life without his knowing that what she feels for him goes far beyond friendship?
And then the strange accidents begin and Miles, Peter and Claire are in danger. Is someone trying to kill the duke?
"Regency fans are in for a treat! Ginny McBlain's Honor Bound is a charming novel filled with strong, memorable characters. Read about a duke's dangerous dilemma. Who is behind the recent plots on his life? Will he have a second chance at love? I highly recommend this elegantly crafted Regency!"~~Susanne Marie Knight, best-selling author of The Magic Token

"Miles and Claire tugged at my heartstrings. Their struggle for a new life after the horrible Peninsular War kept me intrigued, engrossed, and engaged from start to finish. You'll love them, too."~~Connie Crow, Author of All A Lady Wants
Published by Uncial Press.
Order your own copy from
AMAZON, Barnes & Noble, KOBO
or your favorite independent ebookseller.
---