The Story Behind... Where the Heart Leads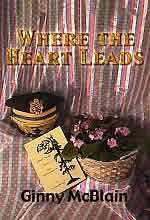 This is the first book I wrote. I'm very proud of this book. It's the book on which I learned how to write. I knew nothing about writing when I started it. With the help of my mentor, Diane Wicker Davis, and Romance Writers of America conferences I was able to turn a sow's ear into a silk purse. Not many authors have their first book published. It took years and years to create a salable manuscript.
The story stems from our family experience at the Command and General Staff College at Fort Leavenworth, Kansas. My husband served 30 years in the Army Reserve, four years of which were on active duty. He was one of the four reservists selected to attend the full CGSC course in the school year of 1976-1977. I loved that year and I adore Fort Leavenworth with its charm and rich history.
In the story I interwove a contemporary romance with tales of the past by making the heroine the curator of the Post Museum. Another goal of the story was to help readers understand what life is like for military families. Military life isn't easy. Most civilians have no idea what hardships the families endure in order to serve the nation, even in peacetime.
The Wrong Man? Perhaps...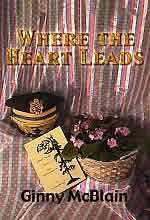 Assigned to the prestigious Command and General Staff College at Ft. Leavenworth, Kansas, career officer, Major Kit Garrett is struggling with single parenthood, while undertaking a rigorous course of study. The last thing he needs is another complication in his life.
Widowed, Ashley Lanning has lost one husband to a dangerous profession and is determined to put down the roots denied her during her vagabond childhood. Even if she was ready to play the dating game again, she wouldn't pick a soldier.
But when a matchmaking friend introduces them at dinner, both experience an instant attraction neither can ignore. How can Mr. Right be Major Wrong?
Temporarily Out of Print
"A love story that is timely and forever at the same time. A story that will touch your hearts and perhaps let you reach for that star before the night fades away, and one with a happy ending."~~Shirley Johnson, Reviewer, Midwest Book Reviews
"Author Ginny McBlain pens a heartwarming tale of love and trust with Where the Heart Leads. Her multilayered characters, her intense writing and the intriguing storyline make Where the Heart Leads hard to put down."~~Robin Peek, The Word on Romance Reviews.
---