The Story Behind... Safe Refuge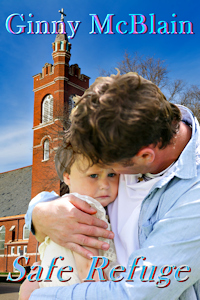 After I completed Solemn Vows, I couldn't let the characters go. Kirsten's story needed to be told. Nothing would do but for her to have a preacher hero. The only trouble was preachers didn't sell in New York. I shelved the idea until I found electronic publishing. Now I can write the stories of my heart without the strictures of the marketing gurus.
This book was written in fits and starts over way too long a period of time. I started it in January 2000 and finished it February 2004. In between I chaired a conference that became a full-time job and went through a series of major life crises, among them the loss of both my parents, two surgeries and having my son deployed to serve in Operation Iraqi Freedom. The slow metamorphous ended with a book far different from of the story I had intended, one I think far better.
I moved several of my old titles to Uncial Press in 2018 and 2019 and in the process updated the stories. It was an eye opener to realize just how much our post 9/11 world is forever changed. We depend on our cell phones so much more now, we have alternatives to taxi cabs, our computers have more capabilities, air travel is more difficult, and on and on.
Although Faith, Hope and Charity was a good title, the more I thought about it, the more I realized the story needed a new title to more clearly reflect the timelessness nature of the love story. The updated version is now called Safe Refuge, which expresses the depth of Kirsten's and Michael's relationship, as well as other aspects of the tale.


A woman with a past...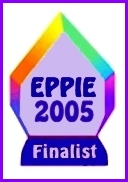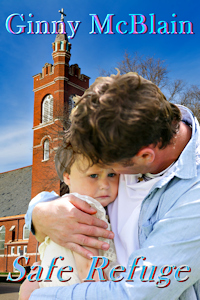 From the moment Kirsten Hansen moves into the house across the street from St. Peter's Church, her life changes. Drawn by the music of the carillon, she finds herself in church, the last place she ever thought she'd be. Worse still, she's attracted to the preacher, the one man a woman like her can never have.
A grief-stricken man...
Widower Reverend Michael Holliman has found the solution to all his problems. Kirsten is a renter who treats the church's house as if it were her own, makes his spoiled daughter mind and gives the youth group the care and attention they deserve. The only drawback is that she stirs his senses and thaws his frozen heart. He doesn't have time to breathe, much less pursue the lady with the shadowed eyes.
Runaway teens...
St. Peter's offers shelter and warmth. How long can the runaways live in the youth room without getting caught?
"...a great read, very emotional, and inspirational. The author has described Christian charity at its best. Author Ginny McBlain is a gifted author and this reviewer looks forward to reading many more works by Ms. McBlain."~~Penny, forFallen Angel Reviews.
"...a heartwarming, inspirational read. ...I must commend Ms. McBlain on the wonderful and inspirational book...I can recommend this story as one not to be missed..."~~Diana Risso, for Romance Reviews Today.
"... a story of spiritual awakening and growth. The gradual conversion of Kirsten is beautiful to follow. Michael's dedication to his church, his child and his God is touching and uplifting. Ginny McBlain is a master story teller. ...she tells a love story that is a joy to read and a treat to experience. This is a wonderful book. I highly recommend it."~~Barri Bryan, author of A World Apart.
Published by Uncial Press
Find your own copy at
AMAZON, Barnes & Noble, KOBO,
or your favorite independent ebookseller.


---