The Story Behind... Solemn Vows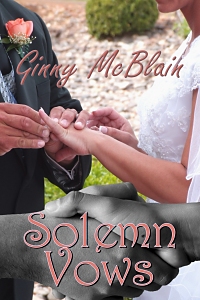 2000 Frankfort Nominee!
The idea for Solemn Vows came completely out of the blue one day while I was ironing. What if someone inherited children? What would happen to the existing relationships? I knew I had to make it difficult for the couple to separate or I wouldn't have a story. So, the hero and heroine became a married couple. That still wasn't enough conflict to sustain a plot. She had to not want children and the reason couldn't be simply that she didn't like kids. She had to have a good rationale. The hero had to have an equally good motive why he must keep them.
I like to feature Omaha, the city next door to the suburb where I live, in my stories. Among the institutions for which our city is famous is Boys Town. At the time I was plotting the book, the home was in the news because of a remark by Newt Gingrich. The media was having a field day. I wanted to tell of the good work the home has done. Again, drawing on my own experience, I also wanted give a glimpse of the life of a Reserve family.
The characters in Solemn Vows turned out to be ones to whom I couldn't say goodbye. They will reappear in Faith, Hope and Charity, due to be re-issued by Uncial Press in June 2019.
Instant—and unexpected—family...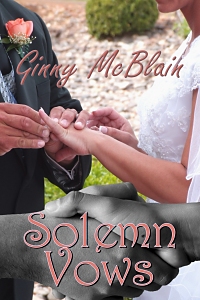 Newlyweds Meredith and Quinn McAllister are made for each other. They come from similar unstable backgrounds and have pulled themselves up by their own ambition and determination. Quinn has no qualms about agreeing to Meredith's stipulation that they have no children. That is until five days after their wedding when he learns his best friend, his "brother" from Boys Town days, is dead and Quinn has inherited three pre-school children, whom he'd long ago promised to raise should something happen to their parents.
What is an honorable man supposed to do? In order to keep one promise, he must break another. Meredith, too, is caught in a dilemma. How can she refuse to take the orphans into her home without revealing her deepest, darkest secret?
Can their newfound love survive this unexpected, drastic change to their carefully made plans?
"This is a 'feel-good' type book that should give the reader a pick-me-up during the coming winter months."~~Romance Communications

"A love story exploring many of the different and diverse ramifications of love, loyalty, and integrity, Solemn Vows is a book to be read, loved and cherished. This is wonderful, warm, tender, full of conflict, and so very real. Ms. McBlain has, once again, touched my heart. Solemn Vows should be on your TBR stack and on your gift list for Christmas, birthdays and especially weddings. It is a charmer. Very Highly Recommend."~~Under the Covers Reviews
Uncial Press is proud to bring this heart-warming story back to life.
Order your own copy from
AMAZON, Barnes & Noble, KOBO
or your favorite independent ebookseller.
---