The Story Behind... Bear Hugs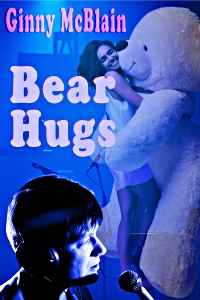 Bear Hugs demanded to be written. The story exploded in my head and wouldn't stop bugging me until I wrote it down. One day I was talking to my best friend on the phone. She told me about a non-fiction book she'd just read, Letters to Jenny by Piers Anthony. I told her I could write a romance around the idea of someone famous doing something special to bring a child out of a coma. The next day the story came knocking and wouldn't let me concentrate on the book I was trying to read.


The side light to the tale of Bear Hugs creation is another quirk of fate. I was asked to present the Friend of E-Publishing Award at the 2003 EPIC conference. The friend EPIC honored that night was Piers Anthony. I had always wanted to tell him his wonderful book inspired mine. It was a dream come true.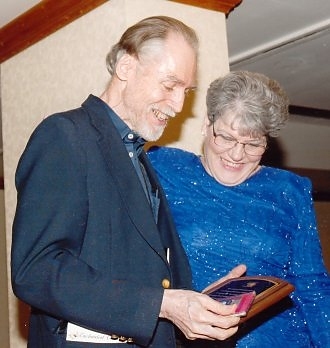 Ginny presenting Piers Anthony with the
Friend of ePublishing Award
and a copy of Bear Hugs
at EPICon 2003
---
Never again...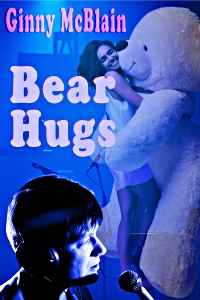 Paige Holbrook needs help to bring her son out of a coma. In desperation, she turns to Bidwell Bear, young Jamie's TV idol.
From their first meeting, Paige and Hunter Blackwell, the man inside the Bidwell costume, experience an attraction neither can ignore.
Hunter is about to realize his life-long dream—to become a singing star. Glitz and glamour aren't Paige's thing, not after what she's been through with her playboy ex-husband.
Is Hunter's love worth the glare of the spotlight?
"Ginny McBlain's book will make the reader laugh in places, cry in others, and reach for the tissues—lots of them—when the time comes. It's good old-fashioned romance, and this one is as good as it gets. 5 Stars!~~Affaire de Coeur

"Next time you hear someone complain of the quality of e-books, give them BEAR HUGS." ~~Timeless Tales
Uncial Press is thrilled to make this delightful story available once more.
Order your own copy from:
AMAZON, Barnes & Noble, KOBO
or your favorite independent ebookseller.
---